Dumbo/Vinegar Hill
The distinctive view of Manhattan Bridge as seen from Washington Street gives DUMBO (short for Down Under the Manhattan Bridge Overpass) its unique feel. Many movies use the neighborhood as a backdrop due to the timeless architecture and ethereal light and atmosphere. Available housing consists primarily of mid-size apartment buildings.
Originally a ferry landing and industrial area, it has become an upscale residential and commercial community first becoming a haven for artist galleries and presently a center for technology startups. The large community of tech startups earned DUMBO the moniker as "the center of the Brooklyn Tech Triangle."
The area has emerged as one of New York City's premier arts districts, with a cluster of art galleries such as the Klompching Gallery, St. Ann's Warehouse and the A.I.R. Gallery. Many culinary businesses have opened in the area clustered in Fulton Landing, also home to Bargemusic, a floating venue for classical music.
DUMBO is bounded to the east by Vinegar Hill, a charming little area marked by brownstone buildings, Belgian-block and cobblestone streets. Vinegar Hill is a neighborhood where you get to know your neighbors. It stretches from the East River waterfront to Front Street and from the Brooklyn Navy Yard to Bridge Street, roughly comprising a six-block area. The neighborhood also includes the New York City Housing Authority's Farragut Houses. Most of Vinegar Hill consists of 19th century Federal Style and Greek Revival-style homes mixed with industrial buildings.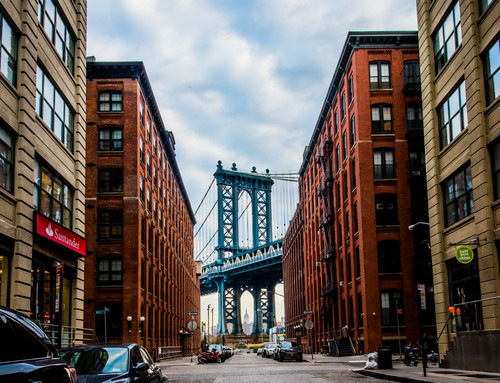 ---
Properties in Dumbo/Vinegar Hill
There are no properties listed in this neighborhood.