Jackson Heights
Take a trip around the world and never leave Jackson Heights. With many different communities, you can soak in the sights, smells and tastes of rich and diverse cultures.
Jackson Heights began as a planned community of upscale apartment buildings with private gardens in the early 20th century. In the years since, the neighborhood has gone through several stages of development and has emerged as a popular place to live. Most of the original neighborhood, comprising the garden city apartment buildings, was made a National Register Historic District and a New York State Historic Register District.
With friendly park spaces and easy transit, this neighborhood is a hidden gem. It lies in the northwestern portion of Queens and is bounded by the Grand Central Parkway to the north, 94th Street and Junction Boulevard to the east, Roosevelt Avenue to the south and the Brooklyn Queens Expressway to the west.
In addition to garden apartments you will find other apartment buildings with ample green spaces, original high ceilings and fireplaces as well as one- and two-family homes.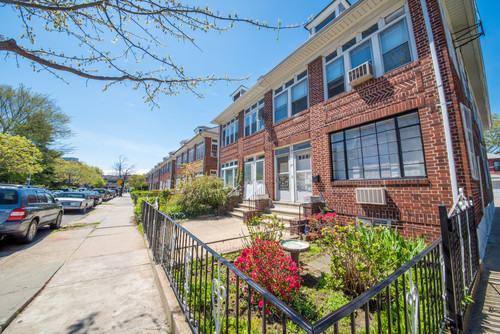 ---
Properties in Jackson Heights
There are no properties listed in this neighborhood.